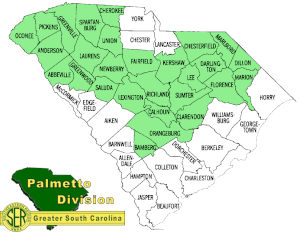 The National Model Railroad Association, NMRA, is the largest organization devoted to the development, promotion, and enjoyment of the hobby of model railroading. The NMRA was founded in 1935 in Milwaukee, Wisconsin, making this our 73rd year in service to the hobby of model railroading!
The Southeastern Region, SER, covers the States of Mississippi, Alabama, Georgia, Tennessee, South Carolina, and a portion of the panhandle of Florida and the Asheville area of North Carolina.
The Palmetto Division encompasses the following counties in South Carolina:
Abbeville, Anderson, Bamberg, Calhoun, Cherokee, Chester, Chesterfield, Clarendon, Darlington, Dillon, Fairfield, Florence, Greenville, Greenwood, Kershaw, Lancaster, Laurens, Lee, Lexington, Marion, Marlboro, Newberry, Oconee, Orangeburg, Pickens, Richland, Saluda, Spartanburg, Sumter, Union and York.
Anyone living in this area who is an NMRA member is automatically a member of the Palmetto Division. There are no additional fees for the local benefits.
You can sign up for NMRA membership (including the Palmetto Division) at the NMRA web site.